Vegan Restaurants in Akron, Ohio
For diet purposes, being vegan means eliminating all animal consumption and animal-produced products: meat, dairy, and eggs. This also includes honey for all you tea lovers out there! It sounds scary, but the health benefits are astonishing. Not to mention, you save millions of furry, feathery, and scaley lives! Ready to try being vegan?
Below are some vegan-friendly restaurants in the Akron area to try.
Vegan Restaurants in Akron
The Soulful Vegan
Akron's own Vegan restaurant, serving up animal-free food with a soulful flare.
Address: 1720 Merriman Rd Suite M • Akron, OH 44313
Website: thesoulfulvegans.com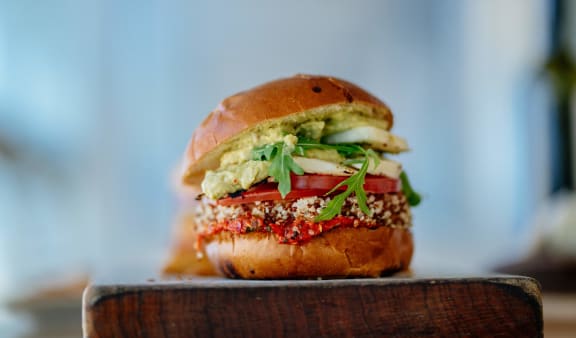 NOMZ
Your new (or current) favorite brunch and sandwich spot in the Northside District of Downtown Akron, located inside the Northside Marketplace. NOMZ sources as much as they can locally for our seasonal menu, which includes breakfast, brunch, lunch, sandwiches, coffee, and a full bar. They are proud to offer multiple gluten-free, vegan, and vegetarian options.
Address: 21 Furnace St • Akron, OH 44308
Website: nomzeatz.com

Good Roots
Take-out and grab-and-go offerings with a focus on affordability and nutrient density, including a few of Ms. Julie's original recipes. Taco bowls, noodle bowls, burgers, sandwiches, soups, desserts, and more. Call for takeout or visit the physical location for pre-prepared items in the coolers. (Ask about meal delivery pickup in Akron.)
Address: 2027 S Main St • Akron, OH
Website: goodrootsohio.com
Vegan-Friendly Restaurants in Akron
Aladdin's Eatery
This Lebanese American restaurant offers traditional and vegetarian dishes, including vegan options like hummus, falafel, wraps, and soups. Vegans must specify no yogurt or honey.
Address: 782 W Market St • Akron, OH
Website: aladdins.com

Chin's Place
A Chinese restaurant with vegetarian and vegan options available. Some of the dishes include Szechuan spicy vegetables, lemon tofu, garlic broccoli, and black pepper tofu.
Address: 474 W Market St • Akron, OH
Website: chinsplace.com
Grazer's Restaurant
An eatery featuring build-your-own rice bowls, wraps, potatoes, and quesadillas, including vegan options. It is a locally-owned restaurant with vegan and vegetarian options.
Address: 123 N Water St • Kent, OH
Website: grazerskent.com

Crave
They have a diverse menu with global influences and vegan-friendly options.
Address: 156 S Main St • Akron, OH
Website: eatdrinkcrave.com
Whether you want to fully embrace being a vegan or you're just hungry and want a healthy choice, there are many options out there and you can find vegan-friendly options at most of your favorites in Akron. You just have to ask!
Testimonials
I would definitely recommend living at The Depot! The management and maintenance are very kind and helpful.

- Google Review
I have been living here for half a semester and the depot was recommended to me by some of my closet friends. Great pool, super convenient gym, and I really enjoy living here with my other college friend.

- Apartment Ratings Review